In the center of Mt.Carmel, a short walking distance from the Hotels Strip, stands one of the largest and most unique theatres in the Haifa and northern region – the Haifa Auditorium.
The Auditorium borders on the Cinematheque, Rappaport Hall and Hecht House and is, in actual fact, the heart of the cultural complex on the Carmel. The large hall can seat over 1,100 patrons (1,139 seated and up to 1,453 in total), in a unique configuration without a balcony, allowing convenient access to each chair and a good view from each seat in an intimate atmosphere.
The Auditorium has excellent acoustics and sophisticated stage facilities and all the best performances from Israel and abroad are staged there. It is the main concert hall of the Haifa symphonic Orchestra and of the Israeli Philharmonic Orchestra, when it performs in the north of Israel. The "Dance in Haifa" dance series also adopted the Auditorium as its home.
Visitors to the Auditorium find convenient parking, full access for the disabled (a special elevator), an impressive foyer, where rolling exhibitions are displayed, a congenial coffee shop, and the patrons can enjoy theatre, dance, entertainment, classical and light music performances, movie screenings and much more.
In conjunction with other ETHOS (The Haifa Municipality Art, Culture and Sports Association Company) facilities, the adjacent garden and the complementary halls, the Auditorium constitutes an ideal and central venue for large audience conventions and for large, complex events and performances. The various teams, under the firm guiding hand of Mr. Reuven Efrati, sustain a particularly high level of maintenance and will be delighted to afford any producer or client an excellent professional manner and assist them in finding effective and rapid solutions for any performance, social event or conference.
Recommended events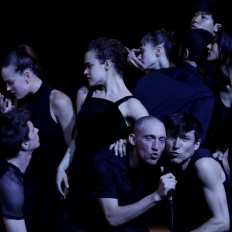 Batsheva Dance Company - Premiering a New Program by Ohad Naharin
29.11.17 20:30 , Auditorium
More Details
Buy Tickets